Welcome to our new office space!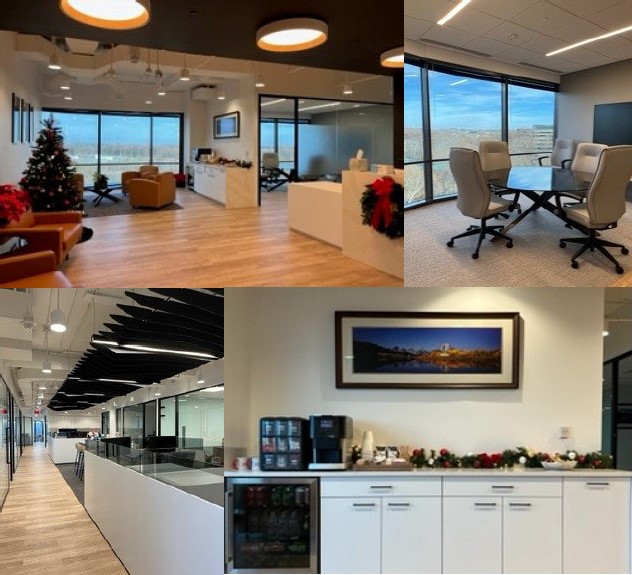 In August, after working remotely for the better part of 17 months, we were beyond thrilled to return to a beautiful new office space in Falls Church! The new
suite is on the ninth floor and affords spectacular views. The building is nestled amongst a forest of lush green trees and boasts a peaceful pond and walking
trails. Watching the leaves change color in the fall and the landscape transform as winter approaches has been a delight. The office is modern in design and
décor and flooded with natural light. The reception area welcomes you with supple camel leather club chairs and a gleaming white marble coffee bar filled
with tasty beverages. The conference rooms are comfortable and bright with a neutral color pallet that takes full advantage of the gorgeous scenery while also
offering privacy. There are visitor parking spots in the front of the building and dedicated CJM assigned spots in the parking garage behind the building. We are conveniently located near I495, US50, US29 and I66.
The More the Merrier!

2021 has been a year of change at CJM, including adding two new employees! We are thrilled they joined the team and were experts at using Zoom from the
beginning. Emily Holmes started in early January and Rich Grant started shortly after. Both graduated from the Financial Planning program at Virginia Tech, much to the delight of our other Hokies, Jessica and Parker. They offer new ideas and unique experiences we know our clients will benefit from in the years to come. We asked them to share what it was like working at CJM this past year.
Emily: I feel like I just started at CJM; I have learned so much in such a short amount of time! Starting out as an Operations team member, I learned the
innerworkings of what it takes to provide excellent service for our clients. I quickly transitioned into a Client Service Representative where I was able to start
building relationships with our clients. As the new year approaches, I am eager to get to know more of our clients and build deeper relationships with our clients and my coworkers. Outside of work, I enjoy DIY projects and spending time with my two Bichons.
Rich: My first year at CJM has flown by! I have been working hard in Operations learning what needs to be done behind the scenes to service our clients well. It is rewarding to not only put together financial plans and prepare paperwork, but to do it all with such a friendly and knowledgeable team of people. As the new year comes, I look forward to becoming a Client Service Representative and developing my own relationship with our clients. Outside of work, I like to spend time with my friends, travel and savor a good cup of tea.
From the CJM family to yours, have Happy Holidays and a wonderful New Year!
What is Terrified? – Anthony Jones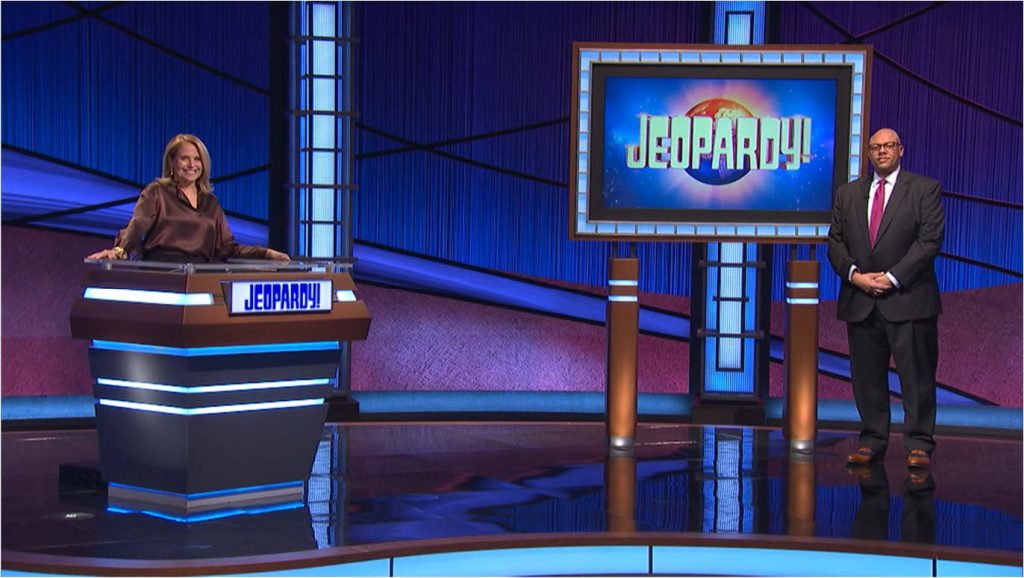 Earlier this year I was fortunate enough to fulfill a lifelong dream of being a contestant on the game show Jeopardy! Taking the test was an annual exercise
in futility, but lightning struck in 2018 when I got an email offering an in‐person interview about 3 months after taking the test. My initial euphoria over scoring an in‐person interview was tempered by the fact that there were 99 others there as well, many of whom had gotten to this point on multiple occasions. That day, which included another written test and a mock run through of the game itself, went as well as I could have hoped and at the end of the day, I was told that I would be in the contestant pool for the next 18 months. Within two months or so, the woman I sat with during the interview process appeared as a contestant, followed by a few others I recognized. At the very end of my contestant window, I finally received the phone call I had been waiting for since I was 9 or 10. I was offered the chance to be on the show. My excitement turned to momentary terror when I realized that my friends and family, as well as millions of strangers, would be watching.
I was originally scheduled to tape the show in late March of 2020, but COVID ultimately delayed that by 10 months. Unfortunately, Alex Trebek, the show's
beloved host for over 35 years, passed away near the end of last year, so I would not get the chance to do the show with him. The time had arrived and I
nervously hopped on a flight to Los Angeles to begin my march towards world domination. Jeopardy! tapes 5 shows per day when in production. I arrived at the studios at 6:45 a.m. on Inauguration Day and the staff walked us through the day's schedule. Before long, we went to the studio for a mock run through. Due to the pandemic, no guests were allowed, so the contestants and staff served as the audience for each episode. The categories for each episode are set in
advance, but the contestants are selected at random. During the taping of the second show, I was picked for the next show. After lunch and makeup, it was
finally time to see if I was ready for my closeup.
The cameras started rolling and I heard, "This is Jeopardy", followed by my name. It was exhilarating, yet I felt oddly calm. Katie Couric was our guest host. I
didn't get off to the start I hoped. During each break people come out to each contestant to give advice, etc. I was struggling with the buzzer, but I was too
quick, not too slow. There is a lot happening during the show. You are listening to and reading the question, while watching the red lights on the side of the
board tick down to let you know when to buzz in. Buzzing in too quickly locks you out for a quarter of a second, which is an eternity on the show. I gained some traction over the remainder of the show, but never gained enough momentum to get over the top. On the positive side, I didn't stare at the camera for 30 minutes without speaking.
Getting to be a contestant on the show was a dream come true. The experience was everything I hoped it would be. Outside of not winning, my only regret was not being able to do the show with Alex Trebek. I even ran into Katie Couric at a traffic light the next night while driving around L.A. She called out to me by name, so I assume we are now best friends. We laughed at the unlikeliness of the encounter and I took a picture lest no one believe me. The show aired on March 17th and can be found on the internet if you missed it live.
Retirement in 2021 – Tim Jones
So what is it like to be "retired"? How does one find fulfillment after a business career that involved multiple interactions with people each and every day?
Those are the questions that we must try to get answered if we are going to be "successful" in retirement.
One of the first things is finding some activities that are enjoyable, but flexible. None of us wants to be committed to doing things all the time on a set schedule ‐ that is what we did when we were working. So finding activities that you can participate in or do when it is convenient is very important. There are multiple opportunities for each of us to volunteer our time and/or talent in our community, so finding some activities to occupy our time is a good idea (and
trust me, your spouse wants you occupied). When you are a type A person, this requires some patience and persistence ‐‐ many volunteer activities are not
operated as efficiently as a well run business, so some activities may be tried and found not to be exactly what we want or need to be doing. But be patient ‐‐ the right opportunity is out there ‐‐ you just have to find it.
So after finding the right mix of activities to do, and starting to do some traveling to places we had dreamed of visiting, along comes COVID. All at once the
activities ceased or were substantially restructured and reorganized. So we did not see people in our day to day activities, and could not visit with others here in our community. Travel ended almost everyplace ‐‐ we did not see our grandsons in Utah for almost 1.5 years. Almost all international travel stopped ‐‐ so the planned trip to Scandinavia in the summer of 2020 was postponed to 2021, and then postponed again until 2022. But thank God for technology ‐‐ Zoom
meetings and FaceTime allowed us to see people and have conversations ‐‐ not the same as face to face ‐‐ no hugs allowed, but there was some interaction and exchange of ideas, smiles, and conversation. But Zoom will not get us to Scandinavia or anyplace else. So what's in our collective future?
My feeling is that COVID in one form or another is not going away. It will be part of our lives forever, so we need to figure out a way to live with it. With our
vaccinations in place, we are trying to just get on with our lives. This looks different for everyone depending on a variety of factors like life stage, health,
and financial means. It's your life, and if you are age 74 as I am (or older), you don't have that many years left to do the fun stuff on your "list". There are lots
of things that need doing, and some of these things have your name on them. Get busy!!
(The opinions in this article may not be shared by all, but considering that this was written by an old guy, give him a little slack 🙂