With all of the news surrounding the coronavirus and the global protests against racism, injustice and inequality, you may have missed the news that the rate on a 30-year mortgage hit a record low last week (June 11, 2020) – falling below 3% for those with the best credit scores.  The recent drop in rates has been fueled by fresh concerns of a second wave of the coronavirus, which already pushed pause on the economy earlier this spring.  With rates historically low, it may make sense to refinance, as you may be able to save on your monthly payments.  As you do your research, you should consider the following factors:
Cost: In general, there is a cost associated with refinancing your mortgage.  Home appraisals and additional loan closing costs can add up to thousands of dollars.  You should compare the total cost of refinancing to the amount of savings each month to find your break-even point.
Plans to move: If you do not plan to stay in your home for more than a few more years, the hassle of gathering all of the documentation and the cost of refinancing may not be worth the effort.
Time remaining on your current mortgage: If you only have a few years left on your mortgage, than you may be better off either paying off the current balance completely or continuing with the current mortgage rather than extending the term out an additional 30 years.
The chart below from the St. Louis Federal Reserve Bank shows the average 30-year fixed mortgage rate over the last 30 years (June 11, 1990 – June 11, 2020).  When compared to mortgage rates over the last 30 years, the current rates represent a potential once in a lifetime opportunity.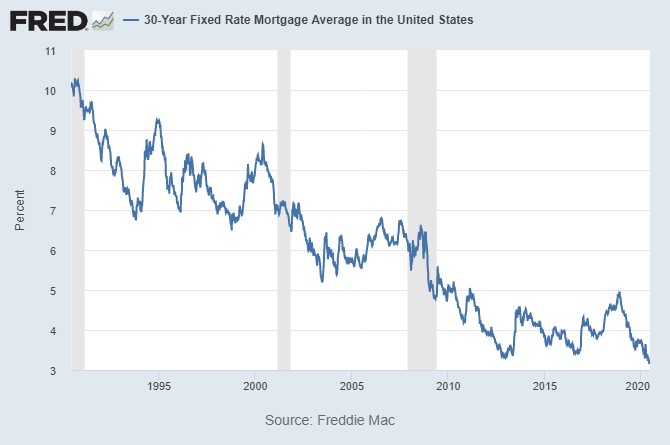 As always, every situation and plan is different.  You should consult your planner and mortgage person for individualized advice.